GÖKSU Hydroelectric Power Plant (HEPP)
GÖKSU HEPP PROJECT CHARACTERISTICS
1. General Information
Göksu HEPP (Run of River Type hydroelectric power plants) is located on the Göksu River in the vicinity of Konya province of Güneysınır District. Göksu HEPP was put into operation in 1959 to utilize the total 80 m of gross head.
Göksu HPP has 10,8 MW installed capacity and produces annually 60 GWh energy with a consistent and stable high capacity factor and steady flow regime.
At the upstream of the Göksu HEPP, there are Bağbaşı, Afşar and Bozkır projects within the scope of Blue Tunnel Project. There are Damlapınar and Kepezkaya HEPP's at the downstream of Göksu operated by the private sector.
2. Project Location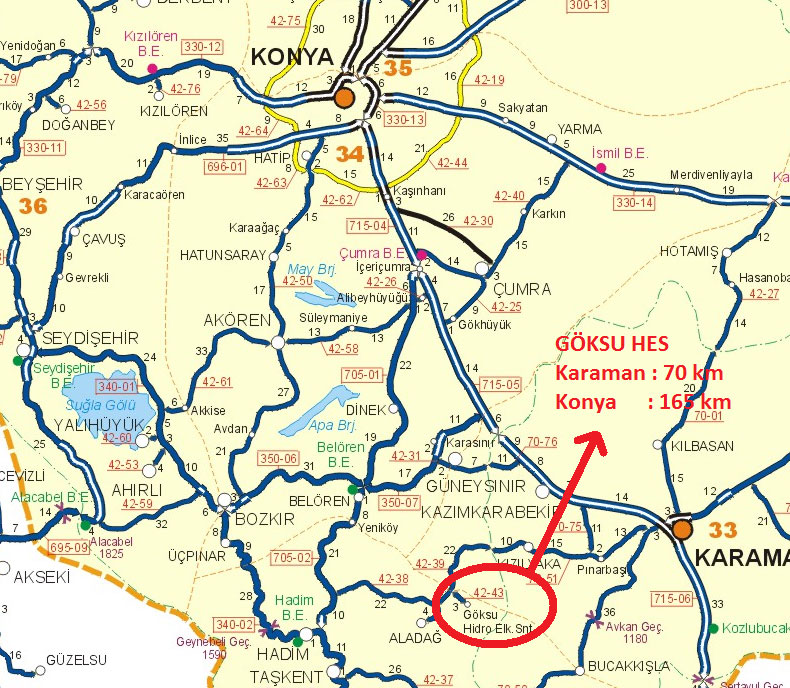 3. Göksu HEPP General layout
Schematic Layout plan of Göksu HEPP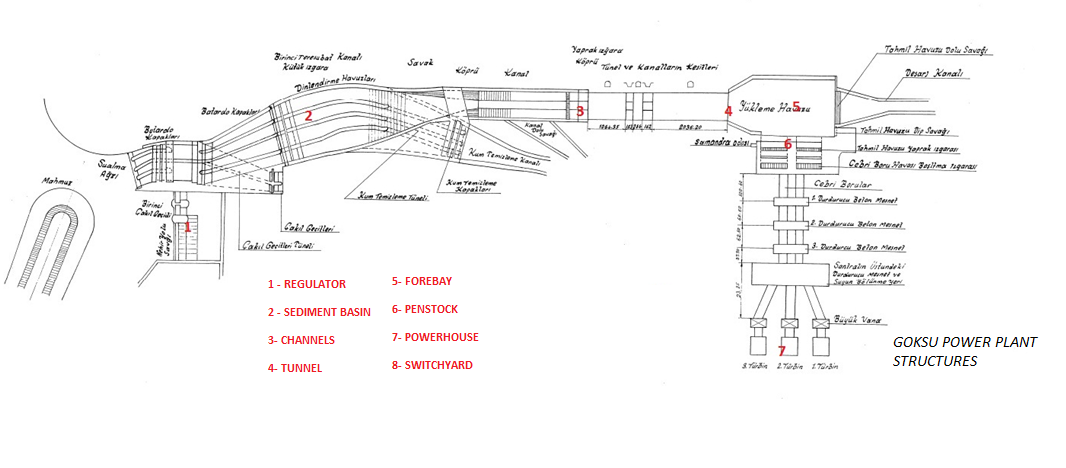 4. Basin of Göksu HEPP
Göksu HEPP is located on the Göksu River and has 1500 km2 of Catchment area.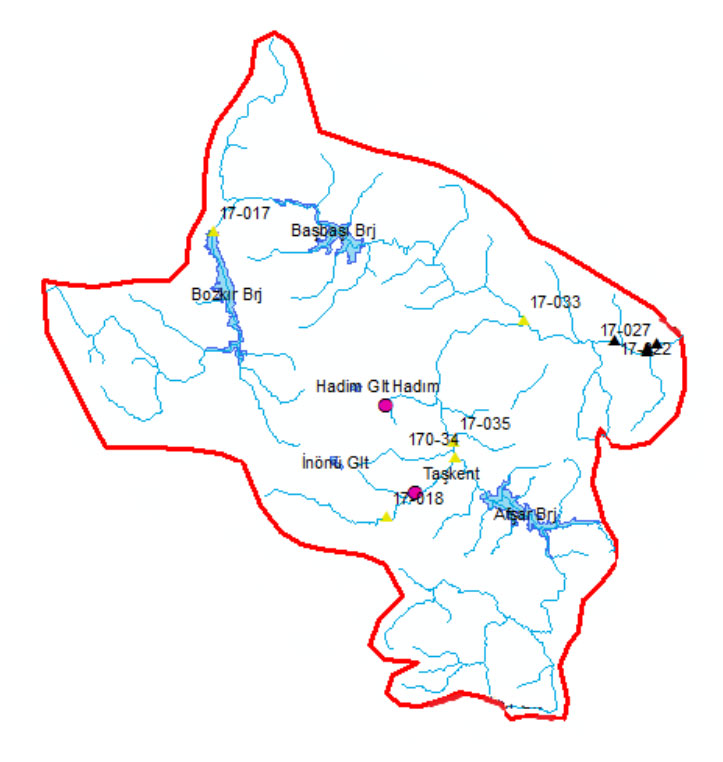 The project components of Göksu HEPP
Regulator
Spillway
Sediment Basin
Transmission Channel,
Tunnel,
Forebay (Reservoir),
Penstock,
Power Plant
Switchyard
6. Göksu HEPP Technical Properties
Basic Project Information
Location  Konya - Güneysınır
Built on  Göksu River
Purpose  Energy Generation
Type  Run of River
Annual Energy  60 GWh.
Net Head  79,27 m
Design Discharge  16 m3/s
Installed capacity  10,8 MW
Project Characteristics of Main Equipment
TRANSMISSION CHANNELS AND TUNNELS
No.1 Tunnel Length  1064,35 m
No.1 Channel length  159,55 m
No.2 Tunnel Length  286,10 m
No.2 Channel Length  162,40 m
No.3 Tunnel Length  2036,20 m
PENSTOCKS
Numbers  2
Length  271,3 m
Diameter  1850 mm
TURBINES
SUPPLIER  Escher Wyss
NUMBER of UNITS  3
TYPE  Horizontal Axis Francis Turbine
CAPACITY OF UNIT  3600 KW
RUNNING SPEED  500 d/d
NET HEAD  79,29 m
GENERATORS
SUPPLIER  AEG
NUMBER of UNITS  3
RUNNING SPEED  500 d/d
CAPACITY OF UNIT  4500 KVA
OUTPUT VOLTAGE  6300 V
TRANSFORMERS
SUPPLIER  AEG
NUMBER of UNITS  3
CAPACITY OF UNIT  4,4 MVA
VOLTAGE  6.3-66 KV
7. Electricity Generation Data
Electricity Generation of Göksu HEPP after the acquiring the operation right of Göksu HEPP via Privatization Authority